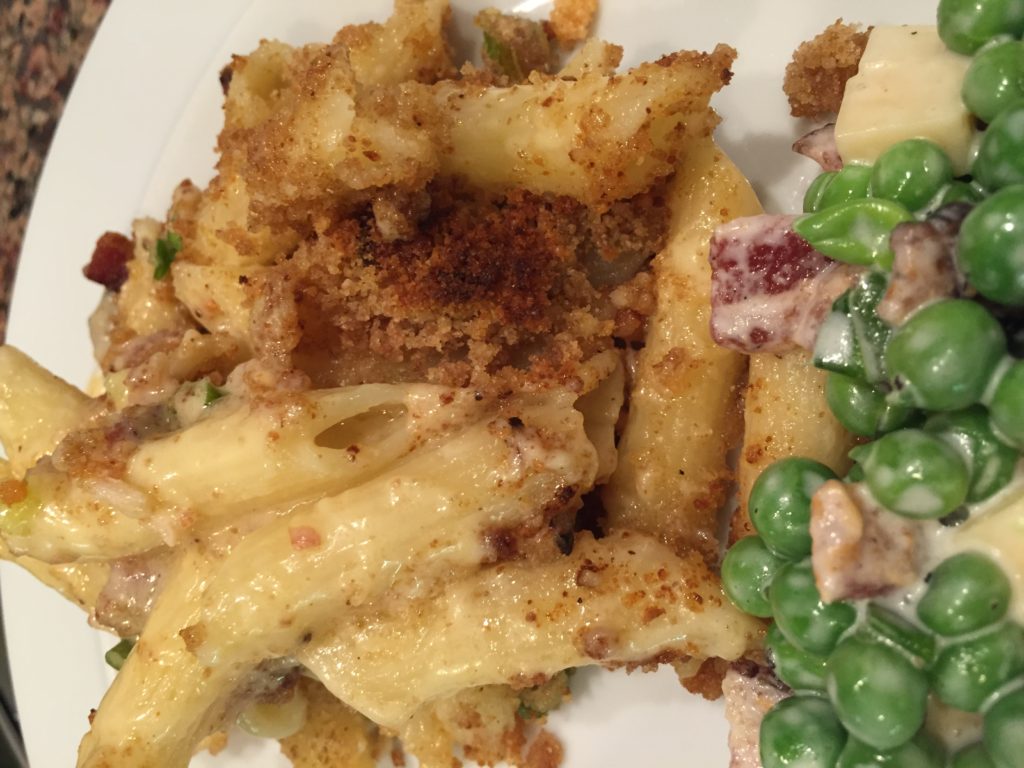 8 oz smoked cheddar cheese, grated: we used Cougar Gold ™
8 oz white cheddar cheese, grated: we used Cougar Gold ™
3 c heavy whipping cream
~1/8 t nutmeg freshly grated
~1/2 t mustard powder
~1/2 t cayenne
~1/2 t sea salt
1 1/2 cubes butter, separated
1/4 c all purpose flour
1 lb high quality thick cut bacon, cooked and cut to 1/4″ pieces
1/2 t truffle paste or 1/4 t truffle oil (add more to taste)
2 scallions, sliced to 1/4″ rounds
3/4 cup panko bread crumbs
1 1/2 cups potato chips or Pop Chips ™ – salted with no other flavor (or saltines)
1/2 cup shredded Parmesan cheese
1 lb good quality Italian pasta (penne, penne rigate, orecchiette)
Cook and cool the bacon, chop it up and set aside to drain the grease. Wash, slice, and drain the green onions.
Make the Topping: Put potato chips or saltines in a large zipper bag, roll with a rolling pin until crumbly (nothing over 1/8 inch, but not a powder). Mix in a bowl with panko and Parmesan cheese. Melt 1/2 cube of butter. Add 1/4 of the bacon and 1/4 of the onions, add melted butter and thoroughly blend it all.
Create a bechamel with 1 cube of butter, flour, and the whipping cream.
Bechamel: Melt the butter in a heavy-bottomed saucepan. Stir in the flour and cook, stirring constantly, until the paste cooks and bubbles, but don't brown it — about 2-3 minutes. Add the cream a few tablespoons at a time, continuing to stir as the sauce thickens. Bring it to a medium boil, continue stirring throughout so that it does not scorch. Season the sauce with nutmeg, cayenne, and salt, lower the heat, and cook, stirring for 2 to 3 minutes more.
Boil the pasta, and while its cooking, melt the grated cheddars in the bechamel. Stir regularly.
When pasta is fully cooked, drain into a large colander, shake out extra water, and put back into the same pot. Pour cheese sauce over pasta. Add green onions and bacon, stir well.
Spray a 9×13″ baking dish with organic cooking spray. Spread macaroni mixture into the dish. Top evenly with topping. Bake at 475* for 30 minutes. Broil high for 3-5 minutes or less – keep an eye on it! We yanked ours out at 3.
Remove from the broiler when the top has browned, do not over do it.
Serve hot and creamy 🙂
Cooks notes: I made this with my awesome niece and nephew, and I'm typing this up as they snooze the morning away (they're teens, they're on vacation, they get to do that at my house 🙂 ).  At every point, I taught them to choose the best quality and why.  We learned about Cougar Gold cheese when we toured Washington State University during Z's college exploration. He chose a different university (dammit), but he's on the hook for that cheese for the rest of his life – no matter what school or career path he takes.  Do yourself a favor and order some – we've learned it's far less expensive to order it and have it shipped from the creamery than to buy it at retail or from Amazon.  You're welcome.
Butter, pasta, whipping cream: organic because we can make that choice in the Northwest easily. Prices aren't much higher and organic is readily available.  Easy cheesy, so why not?  Pasta: yes it's organic, and it's also made in Italy and die cut – no smashed out crappy pasta for our group.  Why? the difference in quality is worth it, the difference in price is a few pennies.
Bacon: buy yourself amazing bacon. If you don't live somewhere that you can get amazing bacon easily, then move.
All of the seasoning measurements are approximate – add seasonings until they taste good to you.  Teach yourself to do that.  Be careful with truffle oil – enough is a beautiful thing, too much is Gack-City.  I replace my truffle oil cap with a medicine dropper to help prevent over-use, but tolerance for truffle also grows with more exposure.  I use more depending on who is eating.